Renovating in a strata building always brings a unique set of opportunities and challenges for both contractors and clients. We talked to Alan and Louise Kuzma about their recent North Vancouver condo renovation experience. Axel and Katarina Schreyer chime in on the experience.
"We got this place, it had vinyl floors, stick on stuff, but we could tell it had a decent layout," says Alan. "We thought we'd just do floors, bathrooms and appliances. Small stuff. But after some consideration and talking to contractors, I asked Axel if he'd be willing to do a full scale renovation for us."
The Flooding
When the Kuzmas first approached Schreyer Construction in 2019, little did we all know what lay ahead. The first renovation in that year saw a relatively confined remodel turn into a full-scale project, all the way to the studs. The upgrade included improved insulation, soundproofing, triple-glazed windows, sliding doors and many other features.
Two weeks before the scheduled photoshoot of the complete project, strata-related plumbing issues resulted in a disastrous flooding of the condo. Because the flooding water was coming in through the kitchen sink, instead of from the upper floors, we were able to salvage the ceilings, upper cabinets, as well as both bathrooms with wall mounted vanities.
The hardwood floors, bottom kitchen cabinets, as well as much of the furniture in the master bedroom and most of the millwork, however, needed to be redone. From scratch.
Round Two
"Once the space was as cleaned up and dried out as possible, Alan got in touch with us to come back and figure out a plan of how to approach the situation in the most financially efficient way possible", says Axel. "Our team created a master plan and started working right away."
"This was also in the middle of the first lockdown of the Covid-19 pandemic, which made the process a little challenging", comments Alan. "With people being locked in their homes, the amount of renovations and upgrades skyrocketed," explains Axel. "Increased demand, coupled with a lack of available workforce, meant that things generally took much longer than they would have done normally."
Kitchen
"Katarina took Louise and myself to look at slabs of stone, granite and countertop material. I always used to want classic marble countertops. Then we found this nice cambrian black brushed granite that looks a lot like marble" says Alan. "You don't actually want porous marble anywhere near kitchens and bathrooms", explains Katarina. "This is why we always recommend to clients who are into that aesthetic to go with engineered stone or granite instead. It was a fun experience to visit various showrooms with the clients, from choosing finishing materials to sitting on a variety of different toilets (laughs)."
"We really appreciate the careful planning that Schreyer Construction put in with our project, really taking time to fine-tune everything," adds Louise. Kitchen cabinetry, as well as all other millwork, was done by Redl (bar, luncheon, hallway closet, office space and vanities in bathrooms). "As for the dining and seating area," says Alan, "I really wanted it to complement the atmosphere of the paintings. So I asked Moe at North Shore Yachtworks, who worked on our boat, to come around and do the seating."
Floors
"Before the flood, we had a walnut floor. In the aftermath, as it all had to come out, we decided; If this place ever floods again, I want the floor to stay," recalls Alan. "The large Italian white porcelain floor tiles we went for in the end were worth it", says Louise. "The white really brightens up the space."
As for the fireplace, the Kuzmas decided they wanted a darker marble that would be in contrast to the white floor. "Katarina took us to the C&S showroom in Burnaby. We loved the selection there. And then Bordingdon did an excellent job and created a masterpiece from two leftover, damaged slabs," says Louise.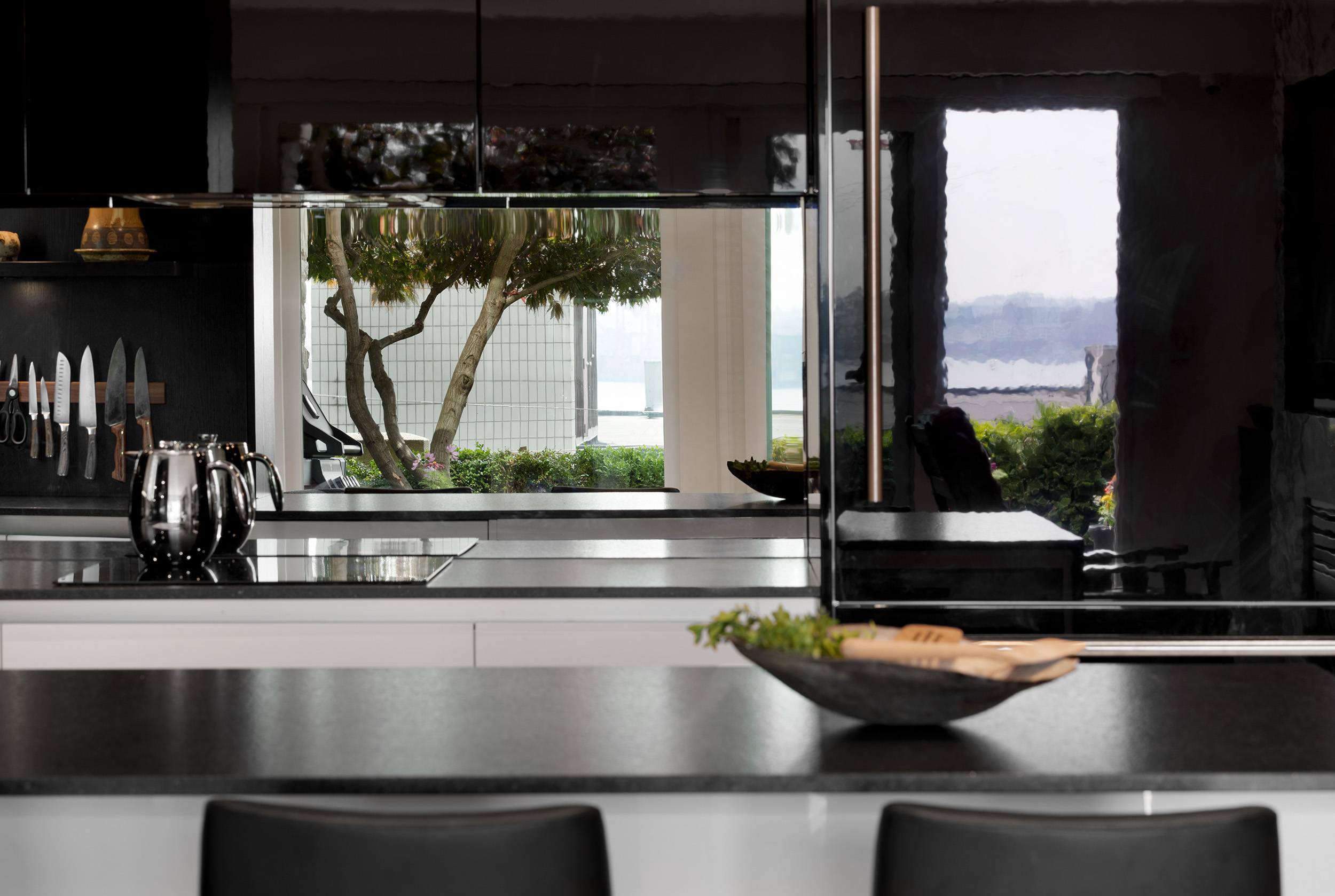 Concerns About Noise
It's no secret that most units, especially in older buildings, are not soundproofed too well. "One of the reasons we wanted to do a renovation was to fix the noise from the upstairs neighbours.", comments Alan. "Axel did some crazy insulation in the ceiling." Originally, there was just a layer of pink fiberglass, which is not soundproof. "We lowered the ceiling, enhanced it with several layers of insulation and made space for pot lights", explains Axel. "When having a look at some of our previous projects, Alan and Louise really liked the lighting at Northern Lights and decided to go with the same Iguzzini laser blades." CDM2 Lightworks did an outstanding job in lighting layout design, ensuring not only comfort and functionality of the space, but also accentuating the displayed artwork.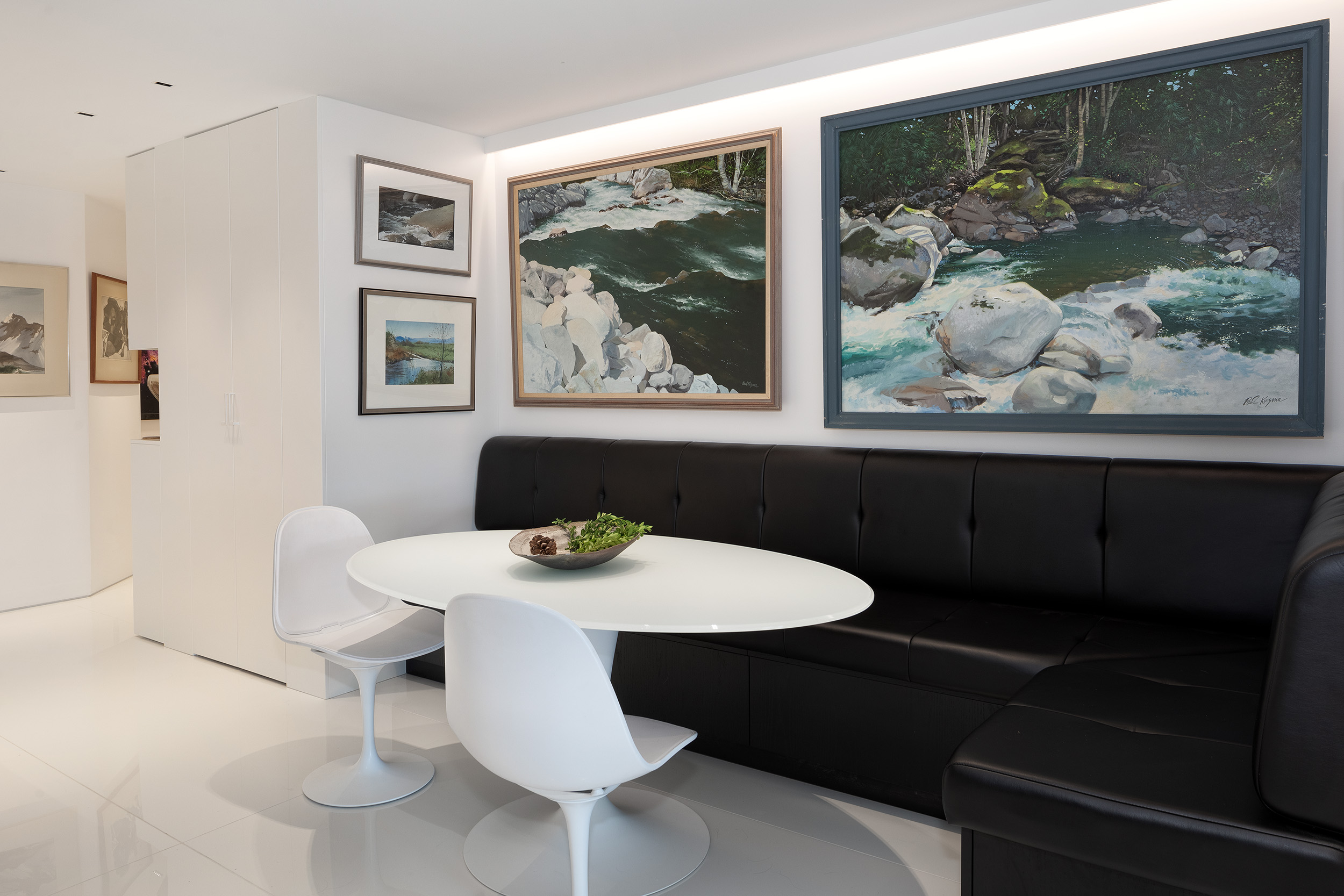 Your north vancouver builder and renovator
"Our budget was generous, and Katarina was pretty upfront about what things would cost. Her estimates turned out to be on point," says Louise. "We are happy to finally be able to enjoy the condo. I would say; trust your builder, trust Schreyer construction. One thing we really appreciated was the customer service, as well as attention to the smallest of details. We could not have asked for a better home renovation experience. Schreyer is your go to custom home builder and renovator in North Vancouver for sure." concludes Alan.
We could not be happier for them.